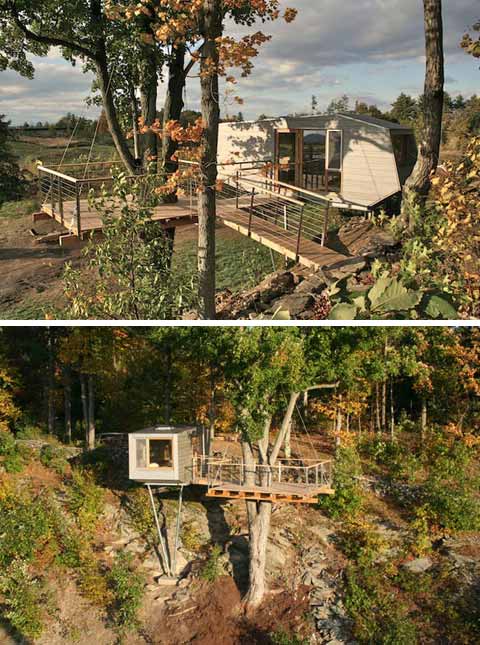 You know how much I love
treehouses
, the feeling of being up there with birds, leaves and sky… So, when I saw this tree house I must admit it took my breath away. First of all, the location is superb – two hours north of NYC, close to the Hudson River in the beautiful state of New York. Second of all, just look at it – it's exquisite! Hanging by a 'thread' over a cliff peering out into the amazing hilly landscape and beyond. As Alicia Keys sings 'some people have it all'…
This gorgeous, contemporary tree house was built for a family with children, visually resembling the owner's main house. It serves as a room for rest and relaxation as well as a guestroom, situated in a height between 1-5 meters, depending on the wall of rocks underneath.
Arriving to the top of the cliff, the visitor is invited by a catwalk leading to a spacious terrace large enough for a table and a few chairs; a second catwalk leads to a beautiful cabin with silver-colored larch boarding. Personally, I love heights so this would not be a problem for me should I ever get the chance to visit this beautiful place, however for those who might find it too scary walking on that narrow catwalk, all I can say is hang in there…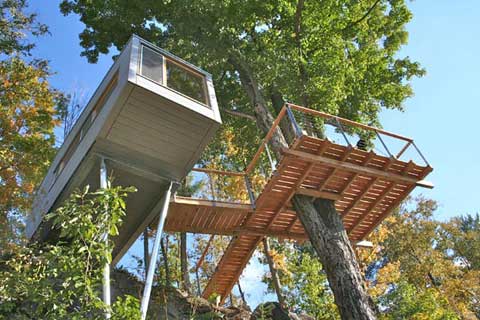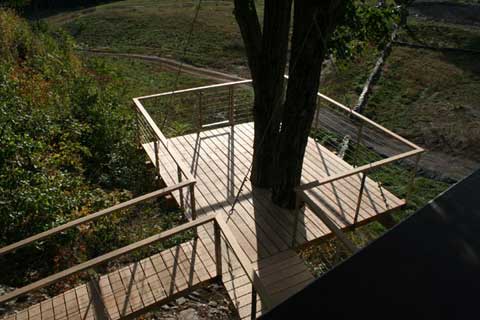 Heavy-duty straps and steel ropes connect the terrace to the oak tree, whereas the tree house is propped up by two slanting supports on the front and two small stilts near the rock.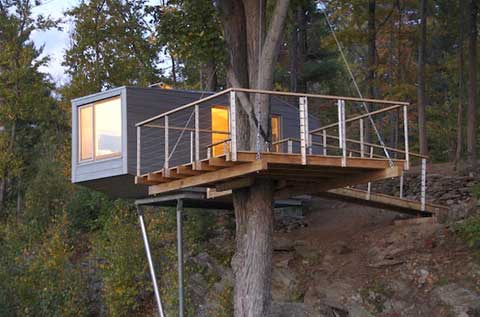 Inside, the cabin is furnished with a very spacious lying area, a bench, and storage drawers underneath. Glazing is fitted on all sides as well as a small rectangular dormer window to watch the sky while lying down. At night time the illuminated treehouse is visible from a great distance.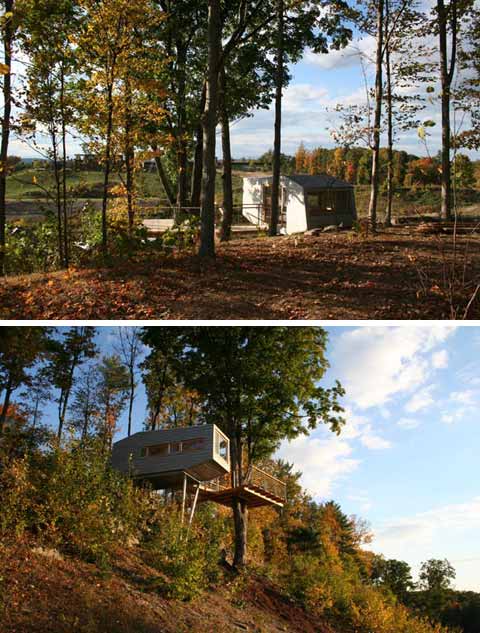 * More info at baumraum