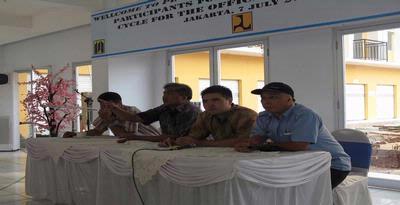 Interested to
develop
low-cost
apartments
for low income people
(
MBR
)
,
the Palestinian
Ministry of Housing
Apartment
beranjangsana
to
City
Park
,
which
is being developed
by the
developer of
the Great
Eternal
Group
(
AAG
)
with the flag of
PT
Reka
Rumanda
Agung
Abadi
.
Group Marketing Director Andry Susanto Agung Abadi said the purpose of the visit in order to learn together about how to develop low-cost apartments from construction, financing, and management environment, as well as explore various development constraints.

"They also made study visits to several countries and provide criticism to us. With the criticism, we were even pleased that so know what our weaknesses," he told reporters in Cengkareng, West Jakarta, Thursday (07/07/2011).

Input from representatives of the Palestinian Ministry of Housing, said Andry, such as the price of the apartment units are slightly more expensive and public transport access is not complete.

"They compare, for example, with Malaysia a cheaper apartment. Because, in Malaysia where the developer does not need to buy the land because it was provided by the government. While in Indonesia, even more expensive land which impact on the expensive apartment units. However, we accept criticism from their
as a refresher for our project, "he said.

A visit to City Park itself is not without cause.
This is the first apartment rusunami operating at 1000 tower construction program launched by the Government of Indonesia rusunami as a project aimed at the underclass of the Road Cengkareng-Kapok.
Inauguration was done directly by President Susilo Bambang Yudhoyono in 2009.

"From a total of approximately 3,000 units, with 10 apartment tower remaining 15 percent was unsold," said Andry.

Agung Abadi Group currently also has marketed Garden City Apartments (700 units) which is an intermediate apartments with prices ranging from Rp 200 million. AAG also developed a landed house, such as Pasadena Residence, Palm Royale, and Garden Maisonette, also shop Garden Boulevard.