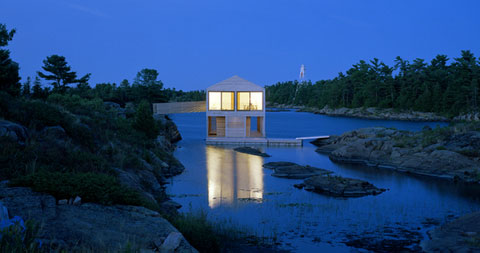 Located on a remote island in Canada's Lake Huron, this floating, two-story summer house dynamically adapts to the drastic water level changes by floating atop a structure of steel pontoons, allowing it to gently sway along with the lake.
Clad in raw cedar, this compact 1,250 sq. ft. summer home presents a modern take on the traditional boat house. The first floor includes a boat slip, storage and sauna while the two bedrooms, office and galley area are located upstairs.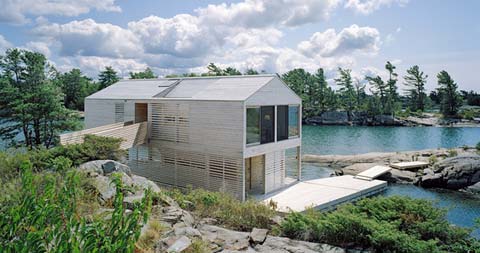 A footbridge connects the Floating Home second floor to the island and an outdoor stair is open to the sky above and the water below. In addition to the house parallel windows offering dramatic views, other openings are wrapped in cedar slates, providing a variety of visual experiences by framing a tree or simply creating an illusion.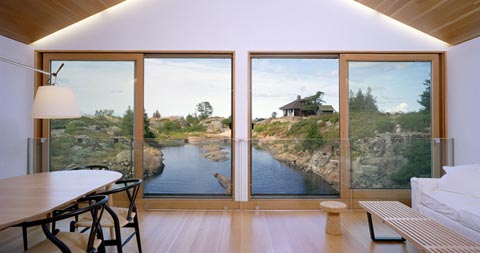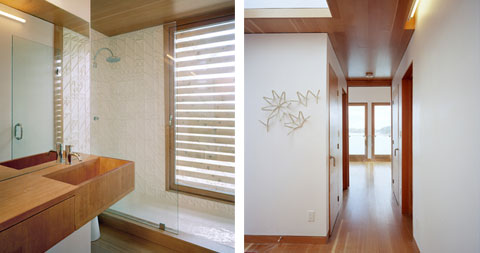 Mos Architects decided to use Lake Huron as a waterway, so instead of using traditional construction processes, which would have been too expensive due to the site limited access, construction materials were delivered instead to the contractor's fabrication shop, located on the lake shore.
The steel platform structure with incorporated pontoons was built first and towed to the lake outside the workshop. On the frozen lake, near the shore, the fabricators constructed the house. The structure was then towed to the site and anchored.
This architectural project includes a main cottage as well as a series of outbuildings to accommodate overnight guests in summer. The additional two bedroom sleeping cabin features an untreated cedar cladding exterior with a gabled roof and sliding barn doors and a soft Douglas fir interior with a central granite fireplace.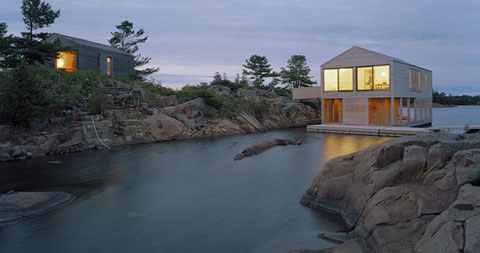 Link