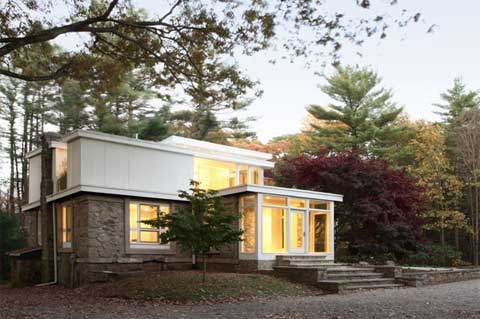 Located in the town of Medfield, Massachusetts, this
home extension
by SsD
Architecture
, features a new second floor, filled with light, above an existing stone ground level as well as a new entry porch, connecting both the new and the original architectures.
The upper level has been divided into three separate pavilions, allowing framed views to the surrounding landscape, while the space between the pavilions becomes a roof-garden and a captured bamboo courtyard that both connect and separate the rooms.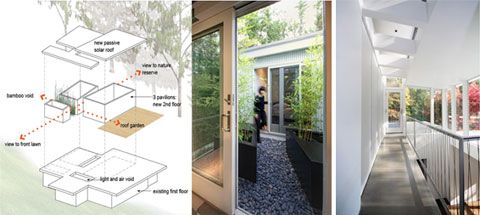 See how dividing the space into 3 pavilions extends the sense of space from inside to outside without increasing the actual size of the house.
A roof overhang blocks high summer sun while allowing low winter sun to keep the thermally massive floor cool in the summer and hot in the winter. The double height space ventilates the house, bringing cool air from below and releasing hot air through upper level windows.

A strategic cut in the ceiling connects the existing ground floor with the new 2nd floor, bringing natural light and ventilation into a space that was originally dark and required artificial lighting even during the day.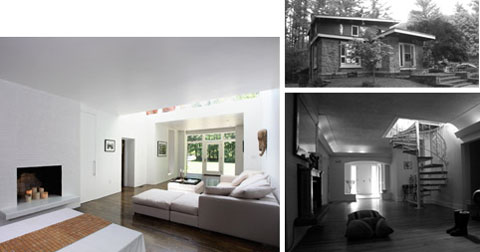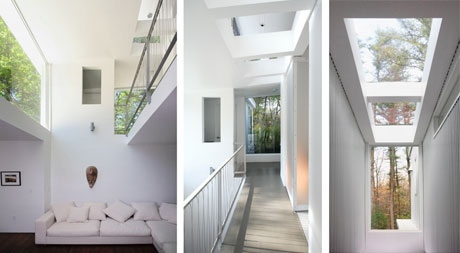 Link