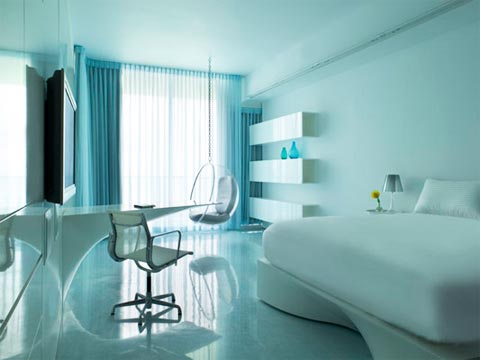 This South Beach weekend getaway was designed for a young couple. It was renovated to maximize ocean views, creating a relaxed, changeable, open atmosphere that is oozing with a sleek and contemporary 'Miami style'.
The original 1,500 sq. ft. space included two bedrooms, a living dining area, two and a half baths, and an entry foyer. It was arranged in such a constraining fashion that each room had a small piece of ocean view. The idea was to create a flexible open space and allow the entire expanse of windows to be seen at once, bringing expansive ocean views into this modern beach apartment.
Two transformable, moving wall units were fabricated in order to achieve this openness while maintaining the two enclosed bedrooms. This creative solution allows to easily reconfigure various residential spaces for different occasions and number of people.
It allows the user to incorporate the guest bedroom, when not in use, into the main living space, creating a much bigger living area and allowing the windows and views to be shared between spaces.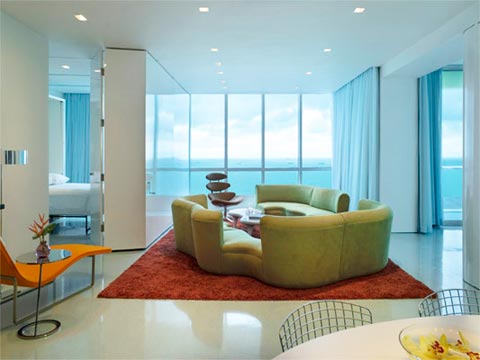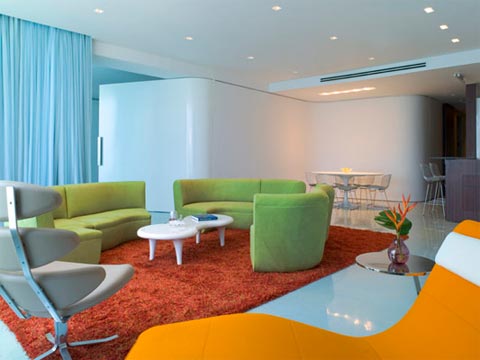 To achieve that, a combination storage closet and wall was created. A unique architectural element that hangs from the ceiling and slides out from the demising wall to create another room between the unit and the demising wall.
The unit is operated by a crank handle that operates a mechanism which pulls the 1,500lb unit along a steel link chain concealed in the three ceiling mounted steel tracks.
The unit incorporates drawers, a hanging space and the door to the bedroom. The void in the center of the storage unit captures a Murphy Bed which is mounted to the demising wall. When in use, this void space provides additional hanging space and open floor area.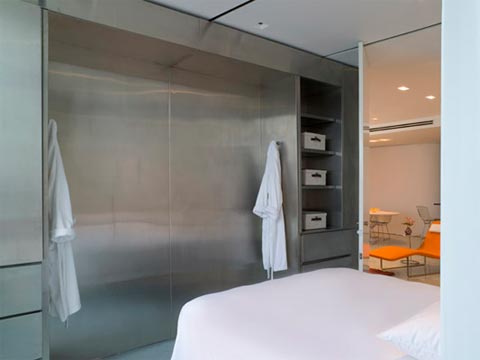 For the master bedroom a 10 foot wide round, pivoting wall was created. When the wall is open it allows the entire master bedroom window to be seen from the living room and from the master bedroom while also preventing anyone in the living spaces to look into the bed, study or dressing area.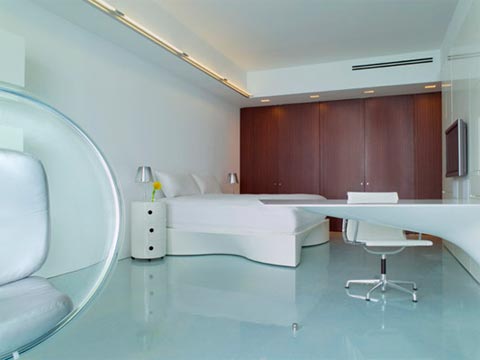 Inspired by surfing gear, various pieces of furniture were modeled in 3D, fabricated, reinforced with steel and aluminum and covered in a lacquer finished fiberglass skin. Just like surfboards.
The desk was designed to cantilever from the wall and is anchored to a floor-to-ceiling steel column embedded in the millwork, whereas the bed shape came by lofting a flower shaped base with a rectangular bed.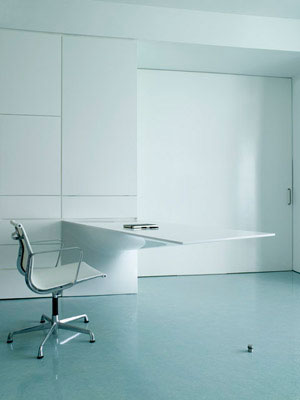 The proximity of the apartment to the beach has been further accentuated. A custom resin floor with a subtle blue color and an embedded sand-like texture. The surface of the floor is smooth, slightly resilient and glossy to reflect the view and the sky outside; translucent and slightly iridescent curtains bring the blue into the apartment and allow varying levels of privacy/screening; the glossy white finish on the two transformable walls create reflections of the ocean views.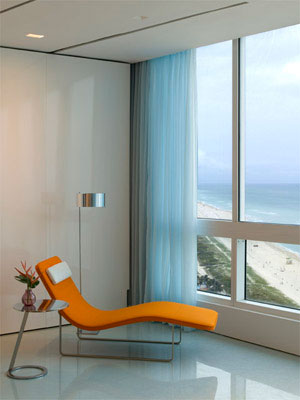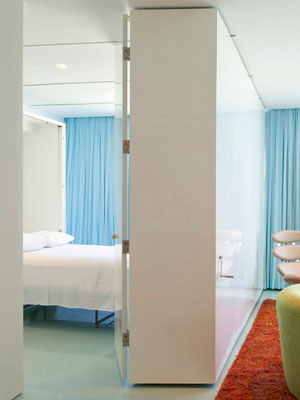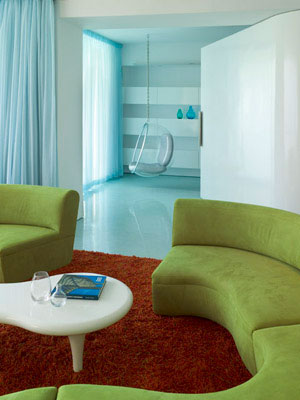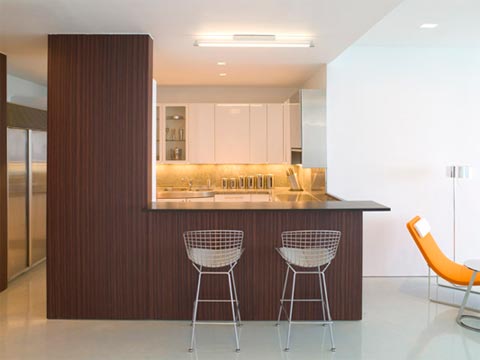 * More info at Slade Architecture